AIB Notizie
Since 1989, "AIB Notizie" is the news of the Italian libraries, which informs not only about the life of the Association, but also about what is happening in the world of libraries and information.
Since 2009, it is published every two months and reports of public meetings, address books, short news on the most important events in the industry. Collaboration is welcome.
Since 2011, "AIB Notizie" is published online. The digitised issues are available in the archives.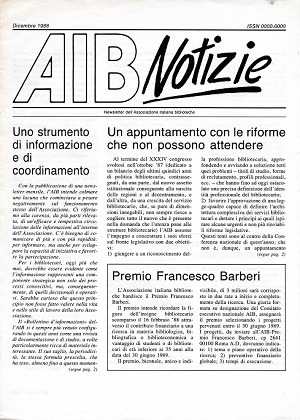 AIB Notizie (1989-2013)
This journal is «AIB Notizie» first series.
It was printed until 2011, then published online only since 2011 until 2013.
Previous issues were digitised and available on this website.
Indexes of 1997-2011 are available at this page.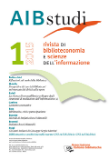 AIB studi
AIB studi, formerly Bollettino AIB, is a four-monthly journal focused on Library Science and analysis of facts, published by the Italian Libraries Association (AIB). The journal, peer-reviewed and open access, is aimed at promoting theoretical reflection, methodological experimentation and professional practices within the field of library, documentation and information services.
AIB studi has been listed by ANVUR as an 'A category' journal, it is indexed in Scopus, and in ESCI (Emerging Sources Citation Index of Web of Science). The journal also participates in DOAJ (Directory of Open Access Journals).